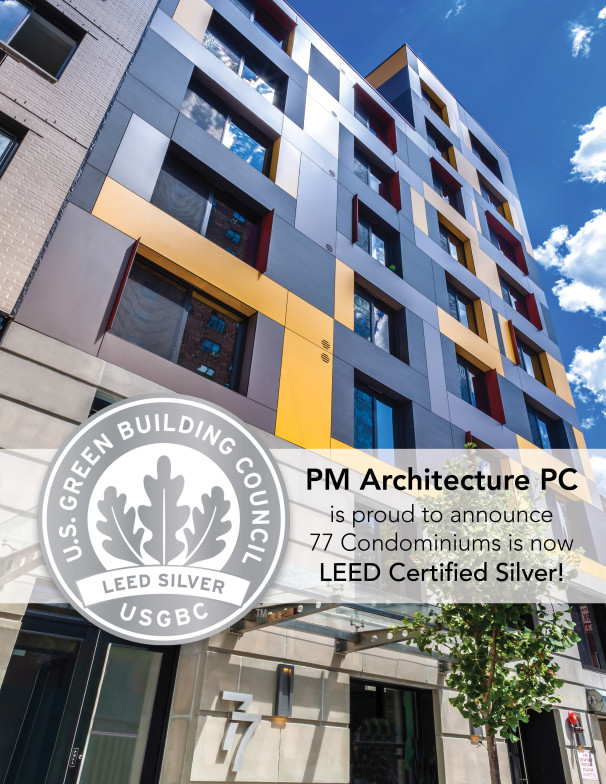 Keep reading
Learn More About PMA's Newest LEED Certified Silver Building
By Ricky Mehta
Buildings have a substantial impact on the health and wellbeing of people and our planet. In one of PM Architecture PC's newest projects, developing the best possible structure to impact the health and wellbeing of its residence positively was a major focal point. The architects took into account every detail to ensure the building is sustainable and comfortable.
This 9-story condo building is located off of Central Park North in Harlem, with a total of twenty 2BR units, and a music recording studio on the first floor.
77 East 110 Condominium is a sustainable building with insulation exceeding what is required by energy code. The structure is equipped with energy-efficient windows and roofing, and an efficient VRV system that is providing both heating and cooling to the tenants. The building brings a modern aesthetic to the area with a panel filled front and fully glazed back facades. Thanks to all these energy efficiency upgrades, the USGBC awarded the 77 Condominiums with LEED Certified Silver!
So what is a LEED-certified building?
LEED stands for Leadership in Energy and Environmental Design and is for all building types and all building phases. LEED-certified buildings adhere to a policy placed by the USGBC to ensure the development of new, environmentally friendly construction. Every year the USGBC updates these requirements to raise the bar on the green building industry, to encourage teams to develop the most sustainable building possible.
Projects pursuing LEED certification earn points across several different categories: Location and Transportation, Sustainable Sites, Water Efficiency, Energy and Atmosphere, Materials and Resources, Indoor Environmental Quality, Innovation, and more. These grading criteria keep the resident's well-being as a priority. Projects are graded on a system that gives them several points to earn one of four LEED rating levels: Certified (40-49 points), Silver(50-59 points), Gold (60-79 points) and Platinum (80+ points).
Thanks to the creation of such standards, more and more architects, owners and contractors are choosing to find ways to make their properties adhere to such guidelines. These certifications are promoting a new wave of energy efficiency in recent construction.